Case Study:
Acromioclavicular Joint Osteoathritis
Presented by: Dr Jerome Goldberg
20 Year old male complains of pain with ADDUCTION of arm:
He attends the gym on a a daily basis and experiences difficulty doing weights in the gym.
Examination:
Prominent & tender AC joint
Non tender glenohumeral joint & rotator cuff
Movement limited  by pain
Pain with cross body adduction test
Investigations:
Xrays show osteoarthritis of the AC joint
No other imaging is required
Treatment:
Regular NSAIDs for 12 weeks
Intraarticular cortisone injection AC joint monthly for 12 weeks
Rest from weights in gym or heavy lifting at work
If still symptomatic after 12 weeks consider an arthroscopic excision of the AC joint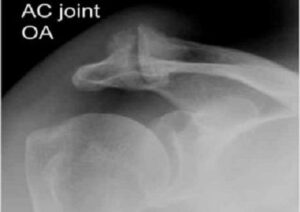 Comments:  This condition is very common in people who spend a lot of time lifting weights either in the gym or at work. In many cases nonoperative treatment, as outlined above, is successful.
Surgery is an option in recalcitrant cases.