Case Study:
Osteoarthritis with Rotator Cuff Failure
Presented by: Dr Jerome Goldberg
History: 
70 year old male, dominant arm
5 year history of increasing pain, especially at night & loss of movement
No improvement with NSAIDs & intraarticular cortisone injections
Significant interference with the activities of daily living
Examination:
Significant wasting of shoulder musculature
Loss of both active and passive movement – unable to get hand to eyes
Marked reduction in power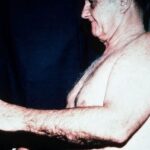 Investigations:


Xrays confirm significant glenohumeral arthritis associated with marked loss of greater tuberosity to acromial distance (indicative of the large long-standing rotator cuff tear)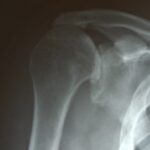 Treatment:
When nonoperative management is unsuccessful, and if the patient has a severe disability, then the only reliable option is a Reverse Shoulder Replacement.
This type of replacement compensates for the massive rotator cuff tear.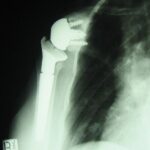 Comments:
The results of a reverse total shoulder replacement have improved considerably over the last 10 years, due to improvements in the prosthetic design, use of Patient Specific Instrumentation, as well as a better understanding about the biomechanics of this prosthesis.
Patients generally get excellent pain relief and reasonable movement, but power can remain limited. The rehabilitation post operatively is not as arduous as following an anatomic shoulder replacement.
Dr Jerome Goldberg