QUESTION | Why are high arched feet more interesting than flat feet?
ANSWER | A 43 year old man presents with numbness on the outer border of the right foot dating back 18 months. He denies any history of injury or of any spinal complaint and denies any history of pain. He is non-diabetic and a non smoker.
On examination:
He has high arched feet with varus of the heels and clawing of  the toes. He walks easily on tip toes but struggles to walk on his heels.
He has weakness of dorsiflexion and eversion. He has brisk knee reflexes and absent ankle reflexes. He has altered sensation on the outer border of the right foot to just above  the lateral malleolus.
When closely questioned his mother has similar feet.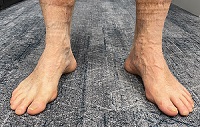 Diagnosis:
The most likely diagnosis is that this man is suffering a neuropathy. The most common neuropathy to cause this picture is hereditary motor and sensory neuropathy formerly known as Charcot-Marie-Tooth disease.
Jean-Marie Charcot (1825-1893) was the father of modern neurology, at least 15 conditions in medicine bear his name. Pierre Marie (1853-1940) was his pupil and also described the disorder of the pituitary gland we now know as acromegaly, Howard Henry Tooth (1856 – 1925) was a British neurologist who described hereditary peroneal muscle atrophy.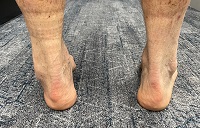 In fact, a large percentage of patients with high arched feet have an underlying condition either neurological peripheral/central or muscular. 
The condition is often inherited.
Patients with high arched or cavo-varus feet are prone to a variety of conditions such as ankle instability, tears of the peroneal tendons, midfoot and ankle arthritis, clawing of the toes with callosities beneath the metatarsal heads, feet which are difficult to get into shoes, pain generally when standing for long periods of time.
It was said that patients with cavo-varus feet are not suited to occupations where they stand for long periods and are not suited to sports which involve running. Some years ago, I had a patient who was the top try scorer in the rugby league two years in a row with extremely high arched feet!
Flat feet on the other hand are not very interesting from a neurological point of view. They do not have the colourful history involving French and British neurologists.